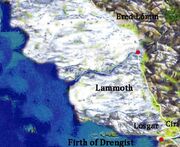 Lammoth (S. "The Great Echo") was the region north of the Firth of Drengist between Ered Lómin and the Sea, named from the echoes of Morgoth's cry in his struggle with Ungoliant.
Regions
Bay of Falasquil Firth of Drengist
Places of Note
Falasquil Finarfinian Camp (Lammoth) Fingolfinian camp (Lammoth) Losgar
References
Read Sil80-1,106; UT23, 52.
Community content is available under
CC-BY-SA
unless otherwise noted.