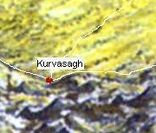 Kurvasagh (Od. 'Place of the Law'). This town was the main Odhriag (an Easterling tribe) settlement. In celebration of the end of Mordor's oppression of their´s at the end of the Second Age, their chieftain Khorgul had the tribal law carved into the sides of the mountains overlooking the town.
References
Fanmodules:MORDOR GAZETTEER
Community content is available under
CC-BY-SA
unless otherwise noted.