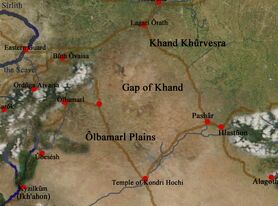 Gap of Khand (V. 'Khandu Prakhod'). This seemingly wide gap between the Ered Glamhoth mountains on the west and the Ered Harmal on the east was actually narrower due to the extensive foothills from both mountain ranges, and was of great strategic importance.
references
Fanmodules:MORDOR GAZETTEER
Community content is available under
CC-BY-SA
unless otherwise noted.