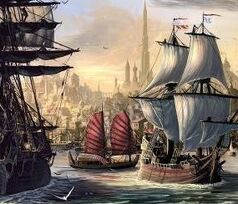 The Khûrn-Nágla (Har."Lively Winds") were a kind of ship and culture among the Haradrim.The Crews of the Khûrn-Nágla had fully adopted to nomadic life on the ocean and were known to be secretive and hard to approach.These Carracks were the single ship of choice for Haradron captains who could afford them. Strong construction and excellent sailing characteristics made the Khûrn-Nágla a favored vessel for long hauls.
Length:
Beam:
Draft:
Displacement:
Freeboard:
Keel:
Construction:
Strength:
Deck:
Forecastle:
Midecastle:
Aftercastle:
Ram:
Steering:
Total Crew:

Officers:
Soldiers:
Sailors:
Rowers:

Turn Radius:
Turn Speed:
Oar Banks:
No.Oars:
Rowers/Oar:
Slow Rowing:
Fast Rowing:
Ramming:
Racing:
Masts:
Sail Type:
Slow Sail:
normal Sail:
fast Sail:
max. Sail:
Artillery:
Provisions:
Cargo:
Notes:
Community content is available under
CC-BY-SA
unless otherwise noted.