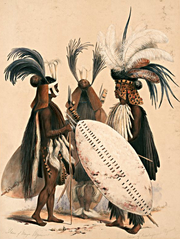 The Karenn-rembe (S Av."Hillmen") were a culture of the Barangil of the Utter South who inhabited the coastal Bushlands of Harad.They were largely descendants of the Magri and Ûsakani or Mûmakani who had not left their ancient home to move to the North.
Notes
The Karenn-rembe are inspired by the Cerinrim-Culture of the Middle-Earth Minecraft project.
Community content is available under
CC-BY-SA
unless otherwise noted.