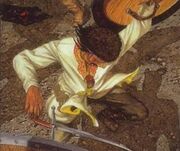 The Jangovar were an Easterling people from ancient Lotan, east of the Rhûnaer.They were descendants of the Balchoth, once a mighty confederacy of many tribes. They often found themselves subjugated or pressed into league with the more powerful Eastern Realm of Bozorganush.
Warcraft
The Jangovar Warriors wore Scimitars and Composite bows.
They were supported by Summoners, Sorcerers trained in Dol Guldur who sought to controlled the wild beasts of the Forest, such as Squirrels, Bears, Sabreteeth, Hawks, Lynx and Rats.
see:
References
Community content is available under
CC-BY-SA
unless otherwise noted.