Boromir: "Is it not a strange fate that we should suffer so much fear and doubt for so small a thing? So small a thing!"
- J. R. R. Tolkien, The Fellowship of the Ring II:10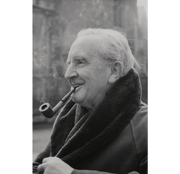 Author of The Hobbit and The Lord of the Rings.
"… I had a mind to make a body of more or less connected legend, ranging from the large and cosmogonic, to the level of romantic fairy-story - the larger founded on the lesser in contact with the earth, the lesser drawing splendour from the vast backcloths .… I would draw some of the great tales in fullness, and leave many only placed in the scheme, and sketched. The cycles should be linked to a majestic whole, and yet leave scope for other minds and hands, wielding paint and music and drama."
- John Ronald Reuel Tolkien, from a letter written to Milton Waldman, ca. 1951 (The Letters of J.R.R. Tolkien, #131)
References
External links
Community content is available under
CC-BY-SA
unless otherwise noted.