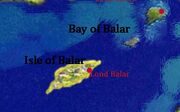 The Isle of Balar was a great isle in the bay of Balar, said to have been the eastern horn of Tol Eressea that had broke away.It was here where Cirdan the Shipwright and Gil-galad dwelt after the Nirnaeth Arnoediad.
Places of note
References
Read Sil 57, 92,121,159,196,244,246-7.
Community content is available under
CC-BY-SA
unless otherwise noted.