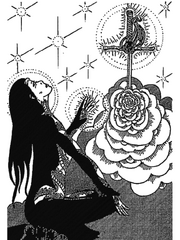 Irinn-lass Ildinir-yil (PQ. "Aralisse Eldânareyel") was the last Princess of Tâlirân. She was a descendant of Ildinir of Ardor and ruled his kingdom. She eventually met Moran and Boah Agonar who both shared Tatyarian blood with her--she knew about the evil coming from the Utter South and vowed to disrupt it in any way she could. Aranlys Eldanar was a fast ally to Hathor, the Guild of Elements, and Moran's companions. A beautiful half-Avar, Aranlys had black hair and amber eyes. She recovered many of her ancestor's items--being a Seer and a Mentalist, she foresaw the dangers ahead and decided to join Moran's fellowship.
Artifacts

Stats: CO 101, SD 100, AG 102, ME 99, RE 102, ST 100, QU 101, PR 103, IN 101, EM 100. 
(All items and stats are subject to change based on the discretion of the Gamemaster, the items/stats listed are an interpretation of the Princess of Taaliraan's character based on the story presented and is presented as such).
Notes
Original form: Aranlys Eldanar = Irinn-las Ildinir-yil
Community content is available under
CC-BY-SA
unless otherwise noted.