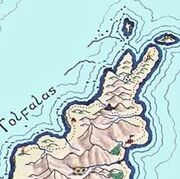 Imrazôr`s Hallow was the family crypt for the princely lines of Belfalas and Morthond. Together with the Eithel Ulmo and the High Hallow of Mindolluin, it was one of the holiest sites in Gondor. Imrazor's Hallow was located in a sheltered cove along the northwestern coast of Tolfalas. Much of the hallow's sacred character derived from the presence of an oiolaire tree—one of the last ot its kind in Middle-Earth— which Tar-Aldarion the Mariner planted there when he first explored the Bay of Belfalas in the early years of the Second Age. Since Fuinurs theft of the Karma in S.A. 3320, this tree had been the only remaining sign of Uinen's covenant with the descendants of the Venturers' Guild of Númenór, upon whose traditions the Pelargirean League was based. Both the tree and its hallow were under Uinen's protection. The hallow was plundered in T.A. 1448 by the vengeful confederate Lord Duranil, who soon afterwards met his doom for the profaning of Uinen's charge. The hallow was resanctified in the following year, and thereafter the kings gave the prince leave to occupy the site with a permanent guard. Imrazôr's Hallow was never again violated, and continued to mark the southernmost boundary of ancient Gondor, just as the hidden tomb of Elendil the Tall upon Amon Anwar in northern Gondor marked the center of the realm shared by both lineages.
References
MERP:Southern Gondor:The Land
Community content is available under
CC-BY-SA
unless otherwise noted.