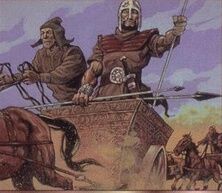 The Igath ("All-People") were a collection of primitive peoples descending from all of the Easterling Tribes loyal to the Plains-god, most prominently the Gathmarig. They were first founded by the King of Mistrand, at the bidding of emissaries of Sauron, the true identity of their "Plains-God," and later they recruited among his vassal peoples as the Brygath. Other Nomad-Easterlings, such as the Sagath and Logath Tribes, later allied themselves with the Igath, and became part of the confederacy. Their name for themselves supported the claim of representation of all nations of Rhûn.
In accordance with their Dark Religion, they were an a wicked and warlike people; their women fought just as did their men, their were said to have herded and treated their children like beasts, and their crafts were very primitive compared to those of Westmen, though they were still more advanced than their Balchoth kin. In the Westlands the Igath were known as the Wainriders, alongside similar tribes united to their aid.
later History
After the disasterous Battle of the Camp and the dismantlement of the Wainrider Realm the Igath coalition fell apart, though some of their tribes persisted to assimilate into the later Balchoth confederation. The Bozorganush of southeastern Rhûn were examples of descendants of the Igath.
References
Fan Modules: the Inland Sea, by Mike Campbell, Luke Potter and Justin Morgan-Davies.