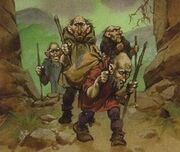 The Ibunites were a small tribe of Dwarven Outcasts, seemingly akin to the Petty-Dwarves of Beleriand. According to legend these Ibunites had been the descendants of Ibun's mother´s tribe and Ibun had found shelter among these after the death of his father Mîm.
Small Communities of Ibunites had lived in the Grey Mountains, the Misty Mountains, the Trollshaws and Cape Vorn, but most of their clans had died out by the late third age.
See:
Settlements
Community content is available under
CC-BY-SA
unless otherwise noted.