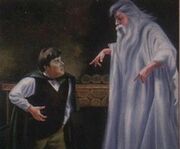 Halfred of Overhill (b. TA 2932) was a Hobbit of the Shire.
Halfred was the youngest son of Hobson Gamgee, brother of Hamfast Gamgee and an uncle of Samwise Gamgee.He lived in Overhill.
References
Foster, Robert. The Complete Guide to Middle-earth.
Community content is available under
CC-BY-SA
unless otherwise noted.