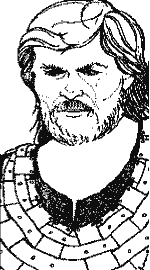 In his early years, Gundramma (Old Rh."Village-Strong") was a river captain of some repute, earning the name "Golden-hands" by amassing the largest fortune in town with just a decade of trading. Four ships comprised his private fleet, outstanding by local standards, and Guntram resided in a stately mansion adjoining the Maethelstede.Later rather rotund and balding, Guntram hasd become the butt of local wags, who chuckled that someday a Giant Eagle will mistake him as a misplaced egg. A canny and avaricious sort into his 2nd term as Master of Mathleisbaurg , Gundramma had amply displayed his expertise at both business and town politics, caring nothing for politics beyond the bounds of his town, and always looking for profit in any affair.
Artefacts:
Notes
MERP gives the original Name in a frankish form, as Guntram.
Community content is available under
CC-BY-SA
unless otherwise noted.