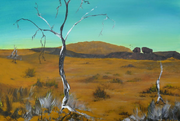 The Great Drought was a phenomenon of Southernesses great East Continent and was widely regarded as a curse on the land by the Girtfolk and many other inhabitants.Since the Second Age the originally green and water-rich country had suffered a series of sincere dry seasons which had largely reduced the once vast forests and grasslands to only traces of their former splendour.The Girtfolk largely believed the reason for the great draught to have been either their forefathers great sin and their reverence of the Dark Lord, the draining of the powers from the land by the doings of evil sorcerers or possibly a curse by the Old ones or even all three of it.
The various Colleges of Wizardry tried to ward off the great drought, especially ,but not exclusively, the Weather-Mages.
Notes:
The "Great drought" presumably is an in-game explanation of how the Great east-continent developed into modern day Australia and the origin of the australian Bush.
Middle-Earth Down Under: An Antipodean Campaign, by Norman Talbot (Department of English, The University of Newcastle, University Drive, Callaghan, Newcastle, NSW 2308, Australia) ©1994 Norman Talbot; first published in Other Hands #4.