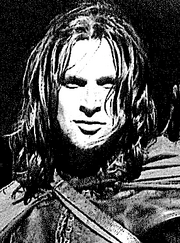 Goromil, also called the Defender of Osgiliath, was a noble Ithilien Ranger who lived in Anfalas and was the cousin of Golasgil. During the War of the Ring, he served in Faramir's company where he helped defend the ruined city of Osgiliath that was falling to the enemy alongside his cousin. After losing half the city, Goromil spent months defending the southern border of Ithilien from Haradrim armies that crossing.
Community content is available under
CC-BY-SA
unless otherwise noted.