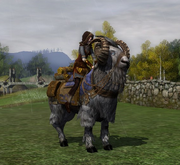 Eastern Middle-Earth
was home to a breed of large animals (Kh."Gamil-ibatharâg", Wm."Orain") of the
goat
-
antelope
family who were used by some
Dwarves
and
Easterlings
as beasts of burden and sometimes even steeds.
See:
Commentary
Tolkien's Books never mention any Dwarves riding Goats or Pigs, however dwarves riding small Horses and chamois are a traditional part of the alpine myths and fairy tales.Riding Pigs is a symbolism usually linked to celtic and norse deities such as Arduinna, Freya or Freyr.
References
Iron Crown Quarterly #1
Iron Crown Quarterly #2
Community content is available under
CC-BY-SA
unless otherwise noted.