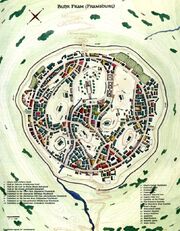 Type: Town and Hill Fort.
Inhabitants: 80% Northman, 20% Mixed Mannish.
Population: 340
Origin: Settled by Estarave Northmen around T.A.1000.
Purpose: Agriculture; a center for trade in the northern Anduin Vales.
Though not directly under the sway of the
Witch-king
,
Wraccaburg
(or properly "Vrakyabaurg") suffered from frequent raids, despair, and a large population of shady characters from beyond
Rhovanion
. The Men of Wraccaburg traded occasionally with their kinsmen in
Maethelburg
, but the latter viewed these Men from the northern valleys with suspicion.
Framsburg
, or later
Burh Fram
, was the name given to
Wraccaburg
after the
Éothraim
settled there in the 19th century of the
Third Age
.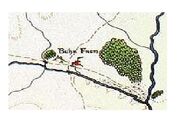 Places of note
Cursed Tomb
Forgotten Crypt
Haunted Hall
Haunted Keep
Hidden Staircase
Moonlit Passage
Community content is available under
CC-BY-SA
unless otherwise noted.