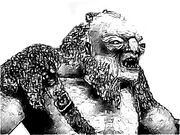 Forest Trolls or Wood-Trolls (S. "Taurtereg" Or."Taulog") were a mixed-breed, generally only 8 to 10 feet tall. They were the least brutal and monstrous of the Wild Troll breeds, being closer to their possible Ent ancestry but also often supposed to have had orc-Blood. More graceful than the Cave Troll and not nearly as hideous, Forest Trolls lived in loosely organized tribes in wooded areas throughout Endor. Good hunters, they were rarely utilized by powerful evil beings except in the most casual way (for instance, an evil Power might have chosen to build a fortress in an area heavily populated by Forest Trolls and ordered them to report anything suspicious but would not employ them in the fortress itself).
Forest Trolls were rarely cannibalistic, perhaps because their environment provided plentiful food of other kinds. Few used Mannish or Elvish style weaponry, except for an occasional sword honed down as a skinning-knife, preferring to hunt with slings and snares of their own making. They would eat anything meaty that was not a Troll - be it deer, boar, or Man. Forest Trolls could survive in diffused sunlight, but they would revert to rotten wood in blazing daylight.
All wielded a debased form of woodland magic . They practiced occult rituals at various places, the exact locations marked by twisted , sentient trees , or standing stones carved with secret runes and tainted with symbols and curses . During the dark of moon or storm , some of the Trolls communed with the dark powers of earth and shadow . They seemed to perform their ceremonies for little other reason then the sensual pleasure that could be drawn from them. However , mannish cultists arranged to meet the Trolls to seek favor from Dark Forces and draw power and knowledge to do evil . The Trolls , for a price , cooperated with these outsiders . Indeed , it had been suggested that the Wood-trolls were bred just for this function , probably by warped priests of the Second Age who hoped to use them as powerful familiars and mediums .
In Eriador, the Wood-Trolls were also known as Gnolls or Gnoll-Kin (especially amongst Hobbits) and Goblin-Trolls.
Notes
In many other RPG systems Gnolls are Hyaena-like Beastmen or related to Orc-kind.In Rolemaster the "Gnoll" are a race similar to beardless Dwarves or Gnomes or subterranean Halflings.
See: