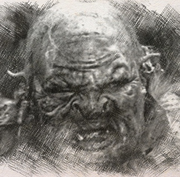 Flizpot, an ugly and clumsy Orc, was the captain of Saruman´s Lumberjack camp in Fangorn forest, and chief of his Treecutters.
Items:
Chainmail
Orc Sword
Orders from Saruman
Saruman's Key
silverpennies
Whip
Speculations:
Flizhpot may be identified with the Overseer of Saruman's Lumberjacks seen briefly in the Two Towers movie (Extended Edition).
References:
J.R.R. Tolkien's The Lord of the Rings, Vol. II
Community content is available under
CC-BY-SA
unless otherwise noted.