Middle-Earth, although often thought of by modern scholars as a mythical analogue to the real temporal world, in fact corresponded to Eurafrasia as it was during the prehistoric Age from BC 10,000 to BC 2340, the recorded date of the Great Flood, which is identified as the final alteration of the world's geological structure, and from which modern history is recorded, the modern day being the 1st century of the Seventh Age.
With this in mind, it is notable that a large gap exists between the recorded Fourth Age and the unrecorded Fifth Age. Major geological and biological events have been identified in this era, but their relationship to the old histories is little understood. It is believed that the Fifth Age revolved around the further devolution of the Dúnedain Empires in the Westlands, and the further withdrawal of the non-Mannish Eruhini from the activities of the world, as well as the rise in prominence of Lesser Men. It is believed that the fall of Gondor and the Dúnedain was a result of the spread of pagan philosophies based upon the Dark Worship, as well as interaction and trade with other peoples turned to imperialism and oppression. From this concept, several basic events can be conjectured;
Assumed realms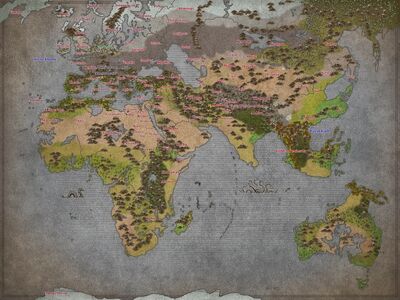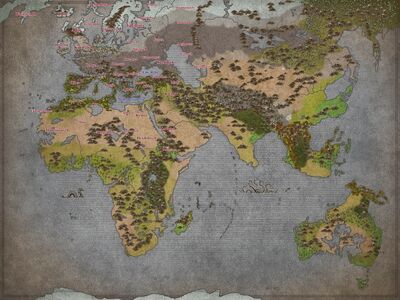 Elvish Placenames
Ambarónë

, Amrun - Orient

Angali

- Angli
Bablon -Babylon

Euti

-Jutes

Forisandi

-Frisians

Forwaith

- Vikings

Gwasgonin

- men of the North

Inwinore

,

Ingilnore

, Luthany -England

Iras

- Irish
Iverin -Ireland

Kalimban

- Germany
Minhiriath - Mesopotamia

Ostor

-the far east

Ponóre

-

Ponórir

- scandinavia
Ringli - arctic colds, the North Pole"

Rum

,

Magbar

-Rome
Sahóra -the south

Saksani

 - Saxons
i Torqeler, Walien - The Tropics

Trui

- Troy

Wéalas

- Welsh
Historical and mythical Lands and Places
Abhirati
Adulis
Aeaea ,Aiaia - Greece
Agisymba - chad
Ahijava, Achaia - Greece
Aia -
Aithiopia - Aethiopia
Akkad,Akkade, Agade, Accad
Albion, Alba - Britain
Alodia, Alwa, Alut - Sudan
Andomhain, Annwn - Angband, Angmar, Utumno - northpole
Anga - northern india
Antilia - atlantic ocean
Apsartides -
Aramu, Ararat, Urattu, Urartri - Armenia
Aratta - Iran
Arimaspea - southern Siberia
Aryanam, Eran, Aneran - Persia
Asmaka - northern India
Asuva -
Atlantis - Númenor
Auxum
Avanti - western India
Azania - southeast africa
Babel, Bablon - Babylon
Banba - Ireland
Biarmia - Achangelsk
Blessed Isles - Tol Eressea
Brittia - Britain
Broceliande - Brittany
Burgu
Calneh, Chalanne, Calno, Kulnia, Kullani, Kullanhu, Canneh, Kainai
Cantre'r Gwaelod - west wales
Cathay, Seres, Kitai - China
Cera
Choda - southern India
Ciuin
Corbenic - northern britain
Cossaea -
Cyrenaica, Kyrenaike - Lybia
Da'amat - eritrea
Dakshina - southern India
Danxome - Dahomey
Deshret
Dilmun, Telmun - bahrain?
Dolicha, Duluk, Doliche
Dunheide, Dunheath
Eden, Edinnu
Edom, Udumi
Elektrides
Emathia, Amathos, Emathoessa
Erech, Uruk
Funan, Nokor Phnom - vietnam
Gandhara - Pakistan
Gomer, Gimirru, Gimmerai- southern Russia
Gorre - southern Wales
Hesperides -
Hy Breasil, Brasil - the New Lands
Hyrkania, Verkana - Turkmenistan
Hyperborea
Idumea, Edom
Ilion, Wilusha, Truwisha
Isbanir - Iraq
Issedones, Essedones - southern Siberia
Jibin -central asia
Jotunheim
Kagmasin -Siberia
Kalamanthana, Bo-ni, Varuna - Indonesia
Kalevala, Väinölä -Finnland
Kanim - Tschad
Kegnia - Kenya
Kemet - Egypt
Ker-Ys, Ys -Brittany
Kerma -Sudan
Kheta - Hittites
Kiengir, ki-en-gi(-r)
Kilwa - Tanzania
Kitara -east central africa
Kolchida, Qulha - Kolchis
Kong -Ivory coast
Kosala -India
Kozak, Cosac
Kvenland, Cwenland, Kaenland - Finnland
Kumari Kandam, Lemuria - pacific ocean
Kumat
Kuru - india
Kurykans -Siberia
Kush, Kusi, Cush, Kûs - Sudan
Kushan -Afghanistan
Kynete - Spain
Libu - Lybia
Liburnia -croatia
Liburnides - Adriatic coast
Lochlann, Llychlynn - Scandinavia
Logres - England
Luthany - England
Lüzhen - Manchuria
Lyonesse - Cornwall
Madai - Iran
Mag Mell - Aman
Magog, mat-Gugu -Turkey
Makuria, Makouria, Makkourae, Makurritae -Sudan
Marege
Marmarica - Lybia
Mbata - Angola
Mbundu - Angola
Medjai, Mazoi, Madjai, Mejay -Sudan
Mentorides - Adriatic coast
Meroë, Medewi, Bedewi, Meruwah, Meruwi -Sudan
Midian, Madiam, Madyan, Modiana - Arabia
Monomotapa -Southern Africa
Mpemba kasi - central Africa
Mu - pacific Ocean
Muspellheim
Myrkwid - mirkwood
Ndogo - Sudan
Niflheim
Ninvi, Ninua, Nineue, Nineweh, Ninuwa - Ninive
Nobadia, Nobatia -Sudan
Nubia, Nub, Nebu, Noubai, Noba, Kesh -Sudan
Ogygia - Maltese
Ophir, Afar, Afri, Ifri
Orungu -central africa
Ouagadou
N'kongo
Paeonia -north macedonia
Pallava - south India
Pandyas, Pandionis - south India
Pelasge, Pelas ge - greece
Pelasgian Argos - greece
Pene, Malal - Mali
Phthia, Phthie -Greece
Pohjola, Pohja -Lapland
Punt, Pwenet, Pwene, Ta netjer -Somalia
Saba, Sheba, Shin, - Arabia
Sai
Sao - Middle-Africa
Sarras - Sinai
Scheria, Scherie, Phaeacia -Corfu
Scythia, Skythike, Scyth, Saka, Sakae, Sacae, Sai, Iskuzai, Askuzai, Skudra, Askuz, Skuthes, Skuda - central Eurasia
Shambhala, Sambhalah, Shamballa, Shambhallah, Xiangbala
Shangri-La, Xianggelila
Shinar, Shene neharot, Shumeru, Sumer, Sangara, Sangar, Sanhar, Sankhar, Shumer, Sumerû, Sanhar(a) - mesopotamia
Shungwaya, Singwaya - Kenia
Sinai, Sin-ah
Sine -Senegal
Singara, tà Síggara, Shinar -Iraq
Skandza - Scandinavia
Songhay -Mali
Soyot
Srivijaya - indonesia
Suba -Kenya
Summerland - Somerset
Ta-Seti, Ta Khentit -Egypt
Tanganyika - Tanzania
Tarsis
Tenugu
Thrinacia, Trinacria, Thrinacie -Sicily, Malta
Thubal
Thule, Thoúlē, Tile - Iceland
Tìr fo Thonn - Beleriand
Tír na mBean
Tír na mBéo
Tír na nOg
Tír na Sorcha
Tìr Tairnigir
Tombuto - Timbuktu
Tora
Turan -Uzbekistan
Uffern - Underdeeps
Uri, Ararat, Lubar -
Urundi
Utenet
Utgard
Uttara Kuru
Vakatakas
Vinland
Viteliu - Italy
Wa, Wae or Wô - Japan
Wagadou -Ghana
Wanin, Papooua - New Guinea
Wusun, Aswin - western China
Xanadu, Sandu, Shangdu -Mongolia
Yura
Zabulistan, Zavolistan - Afghanistan
Zaghawa, Kanem -central africa
Zerzura
Zion, Sion, Sayon, Syon, Tzion, Tsion - Israel
Middle-Earth and modern Day Europe
Tolkien intended Middle-Earth, or the Westlands, to correspond to Europe but set in a fictional prehistoric Age. He even gave hints that he intended Minas Tirith to be set on the same degree of latitude as Florence and Hobbiton and Rivendell to lay on the same latitude as Oxford. However he never gave informations on any degree of longitude, but these could eventually be guessed by taking his early maps of Beleriand into account. His sketches in the Shaping of Middle-Earth show the northwestern Coasts of Beleriand to be parallel with the west coast of North Africa, taking into account that Beleriand measured roughly 600 miles in longitude, this would set the Nenuial approximately on the same degree of longitude as Dublin. On the other hand, in his early writings, Tolkien had concipated Great Britain and Ireland to be remnants of eastern Tol Eressëa which had broken off the greater part of the island and remained in the east after Ulmo had transferred the rest of the Island into the Bay of Eldamar. Concerning this, the progenitor of the later British Isles must have been part of an archipelago which lay west of the Ered Luin close to the remains of the Bay of Balar and ancient Beleriand, which would place the coast of Lindon at least between the 0 and 10 degree of longitude.