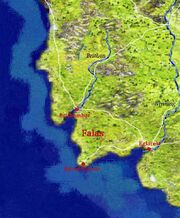 The Falas were the western coasts of Beleriand, south of Nevrast.
Regions
Brithon Emyn Eglain Firth of Eglarest Forfalas Harfalas Nenning
Places of Note
Bar-i-Myl Barad Nimrais Brithombar Eglarest Ingolonde Mount Taras Vinyamar
Inhabitants
Characters
Aerandir Aranwë Arminas Cirdan the Shipwright Cirdor Eärendil Erellont Etharion Faervel Falathar Galdor of the havens Gil-galad Meril Thorobir Voronwë Aranwion
References
Read Sil 58, 93, 96-7.107.120.160.190.196. 211; UT33-4,51.
Boromir: "Is it not a strange fate that we should suffer so much fear and doubt for so small a thing? So small a thing!"
- J. R. R. Tolkien, The Fellowship of the Ring II:10
Community content is available under
CC-BY-SA
unless otherwise noted.