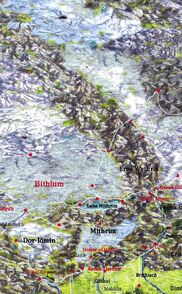 Ered Wethrin (S. "The Mountains of Shadow", "The Shadowy Mountains") was the great curving range bordering Dor-nu-Fauglith (Ard-galen) on the west and forming the barrier between Hithlum and West Beleriand.
Places of Note
Aradan's Watch Barad Eithel Eithel Sirion Fangros Hathol's Hall Strongsholds of the Ered Wethrin
References
ReadSU 106-7,109.113.116.118-20.126.143.151-2.160, 170,175,190,192,194,203,207,209,212,216,227-8,239; UT26.33, 68,110.121.127,160.
Community content is available under
CC-BY-SA
unless otherwise noted.