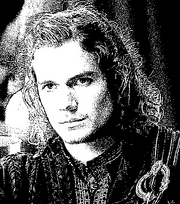 Born in T.A. 2990, and 29 by the War of the Ring, Erchirion was the second son of Prince Imrahil. He was the the younger brother of Elphir and the older brother of Amrothos and Lothíriel. Presumably he rode to war with his father and brothers. What battles he took part in are unrecorded, but most likely he participated in all the ones his father and brothers did.
Items
References
Community content is available under
CC-BY-SA
unless otherwise noted.