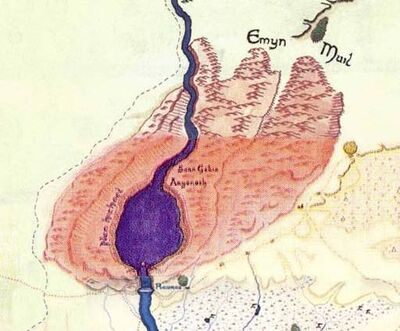 The Emyn Muil (S. "Dread Hills") was the folded, rocky, and (especially on the east side) barren hill-country about Nen Hithoel (S. "Mist-cool Water") above Rauros falls.
See:
Places of Note:
Amon Hen
Black Pools
Emyn Muil Caverns
Emyn Muil Orc-Camp
Gondorian Ruins
The Highlands
Impassable Chasm
Nen Hithoel

The North Stair
Shores of Nen Hithoel

The Outer Ridge
Sarn Gebir
References
LotRl484; II 27.265; III 34; UT260.296,306. 343,368.371
Community content is available under
CC-BY-SA
unless otherwise noted.