Eldalondë (Q."Haven of the Eldar") was a city and haven in Númenor,located in the Bay of Eldanna at the mouth of the river Nunduine.It was called 'Eldalondë the Green".
Places of Note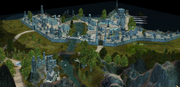 Eldarin Quarter
Great Gardens
Royal Havens
References
Read UT 167-8.
MERP:Northern Middle-Earth Campaign Guide
Community content is available under
CC-BY-SA
unless otherwise noted.