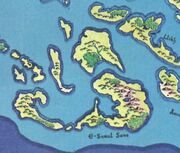 One of the largest islands located off the coast of
Endor
,
E-Sorul Sare
 was the principal isle in the vast
Southern Archipelago
. It was populated by the
Sâre
people,
Akanli
-speaking tribesmen known for their hunting, fishing, and
spice
-growing skills. Steep mountains dominated the central portion of the U-shaped island. Jungle covered great portions of the long coastline.
Places of Note
Home of Clan Arain Jenna-Lakh Sari
References
the Wild Lands south and East, Gazetteer by Pete Fenlon
Community content is available under
CC-BY-SA
unless otherwise noted.