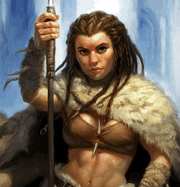 Drûiz was a beautiful Dwarf-maiden of Malln's House who discovered the Secret of the North in T.A. 1639. A talented explorer, she produced a revision of the map of the northern range of the Mountains of the Wind.
Notes:
Original form:Druis
References
MERP:Lords of Middle-earth Vol III: Hobbits, Dwarves, Ents, Orcs & Trolls
Community content is available under
CC-BY-SA
unless otherwise noted.