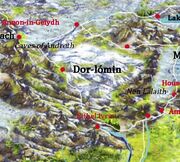 Dor-lómin was a region in the south of Hithlum, the territory of Fingon, given as a fief to the house of Hador; the home of Húrin Thalion and Morwen Eledhwen.
Names
Ariodor
Dorlamren
Dorloven
Lómendor
Lóminórë
Mathusdor
References
Read SU89,119-20.147.155. ¡58-60,190,¡94,198-9,204,209,2H.214-17. 224-5.228,230.232-3,238; UT 17-20.52.57.59.66,68-70,74-5.78,80. 85-7.95.104.108,112,121.124,144,146-9.154.157.159-62.215.386.
Community content is available under
CC-BY-SA
unless otherwise noted.