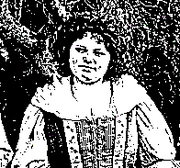 Diamonda Bracegirdle was a Hobbit of the Shire and a member of the Bracegirdle clan. She has lived in the village of Longbottom of Southfarthing and enjoyed the smell of Sweet Galenas.
References
Nautilus #14: "Die Hobbits von Langgrund" (Fan Supplement)
Community content is available under
CC-BY-SA
unless otherwise noted.