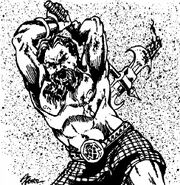 Called Wolfsbane, Dhârim slew a pack of hungry wolves when he was only seven years of age. He died in a flood that swept through the Faliodukum Valley in Rûrîk in S.A. 1011. His brother Bhûm succeeded him as King of Malln the Cold's House and Lord of Northern Rûrîk.
Notes
Original form in MERP: Darim Wolfsbane.
References
MERP: Lords of Middle-earth Vol III: Hobbits, Dwarves, Ents, Orcs & Trolls
Community content is available under
CC-BY-SA
unless otherwise noted.