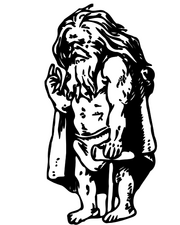 The Dûrgana (ol."Dwarves, Demons") of the Moth-Mountains, the High-foot Smith-Caves, and the new Mountains of the Evenrust were a number of clans of Southern Dwarves in the Dark Lands great eastern continent. They were haters of all magic: "it vexes," they said, "the bones of the Mother". In their dry unhuman humor they called themselves the "Eldest Earth-Children", the "Volcano-Worms", the "Hammer-Suckers", the "Mother Lovers", the "Bastards of the Ice That Ate The World", and so on ¬ and indeed they were prodigiously long-lived.
The Dûrgana claimed to know the "Dream of the Firstfather", from the First Age, at first hand.Their tales of the Cold Mother of the Walking Ice, the Ônd-forest Earthdance and the "Anger of the Mountains" were both convincing and significantly similar to songs of the Old Ones.
The Old Ones, whom the Dûrgana called the Sun-Children, preferred not to see them, and the two races avoided each other.
See:
Appearance
The Dûrgana were stout and squat, mostly of dark complexion with black, wiry hair, possibly due to their largely Blacklock-ancestry.
Dûrgana of Renown
Kekkis Kekkisul Thrawn Ûsted Stone-Axe Uzbadbasân
Notes
Original name:Dwarrows
Based on: Middle-Earth Down Under: An Antipodean Campaign by Norman Talbot (Department of English, The University of Newcastle, University Drive, Callaghan, Newcastle, NSW 2308, Australia) ©1994 Norman Talbot; first published in Other Hands 4.
Community content is available under
CC-BY-SA
unless otherwise noted.