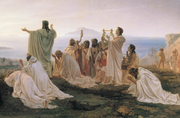 The Cult of the One-person (Kil."Kôr-Êrubênsha") was a cult on Southernesse's great east-continent originating in Hot Gates and Freeport but later expanding to Seabright, Freck Islands and Godsport.It was possibly based on eruist-traditions handed down among the descendants of the Elendili-exiles among the Girtfolks ancestors.
Notes
Based on:Middle-Earth Down Under: An Antipodean Campaign by Norman Talbot (Department of English, The University of Newcastle, University Drive, Callaghan, Newcastle, NSW 2308, Australia) ©1994 Norman Talbot; first published in Other Hands 4.n
Community content is available under
CC-BY-SA
unless otherwise noted.