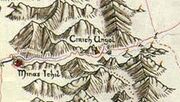 Cirith Ithil (S. "Moon Pass"). This was a natural pass through the Ephel Dûath created by the Ithilduin river as it flowed westward. After the fall of Minas Ithil in TA 2002 this pass was renamed Cirith Morgul.
Characters
References
Fanmodules:MORDOR GAZETTEER
Community content is available under
CC-BY-SA
unless otherwise noted.