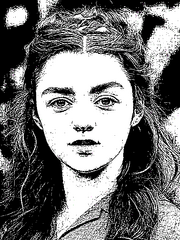 Celandine Took was a Hobbit of the Shire. Being inspired by Bilbo Baggins's adventures in There and Back Again: A Hobbit's Holiday, she decided to go on her own journey and wrote a letter to Bilbo while on the road:
Dearest Bilbo, 
With your writings as my inspiration I have taken to the road. My days have been long, and my nights longer, and such hardships I have endured! But I am glad I came here to this wild country so far from The Shire. Something Tookish has awoken within me, and I feel quite sure I am in love with the travelling life.    
Where once my favourite companions were the warm hearth and a mug of ale, these days I am firmer friends with my walking stick, my thick cloak and my travel kettle. I think of all the long miles behind me, and thank you yet again for having allowed me to read your notes. I am not sure what they would think of me now in the Westfarthing. And I am not sure I care.  
I will write to you again when I reach Lake-town. 
Yours in good spirits, 
Celandine Took
References
Community content is available under
CC-BY-SA
unless otherwise noted.