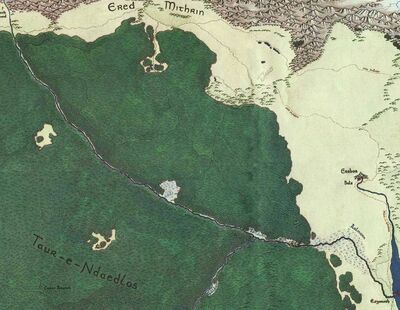 the Realm
Political Organization: Monarchy and tribal Elders.
Rulers: Thranduil Oropherion, King of northern Mirkwood.Arhendhiril, Queen of northern Mirkwood.Legolas Greenleaf, Crown-Prince and ambassador of the King.
Administrative Organization: Elective Monarchy.The King is aided by a council of representatives of the most influential houses or families.
Population: 20.000 Sindar, Nandor, Penni and Mountain-Elves.
Military: 2.000 men at Arms including Archers, Swordsmen, Spear-men, Forest Wardens, Taurdirim, Tirduinrim, Sentinels and Woodland-Riders.
Products: elven-Silk, Wood-carving, fruits.
Symbol: A leaf-crown.
Settlements
Althrith Amon Tamró Aradhrynd Athrad Sirros Caras Amarth Ceber Fanuin Celebannon Cor Angaladh Dolentir Lindil Maltir Sarn Lothduin Taurduin
Characters
Aegnor Alarien Amdir Arcamir Arculas Argaldor Arhendhiril Arien Avaralas Bancadan Bel-bilinc Belion Brandir Brethilwen Calendir Camaron Camthalion Celebrim Celequar Dolwin Eglavirdan Elenien Elenwe Elros Feren Fuinar Galerin Galion Gilraen Gwaedun Heladil Heleder Huinen Iaugalas Indossa Itaril Lamalas Legolas Greenleaf Lianna Nandeli Narmire Nathir Nenledil Ohtar of Celebannon Oropher Ringlin Tathariel Tauressar Tauriel Taurion Tawgir Thancalion Thranduil Oropherion Tiriel Uiniel Varmaldi
Trending pages
All items (52)
A
B
C
E
F
G
H
I
L
M
N
O
P
R
T
U
W
Ô
Community content is available under
CC-BY-SA
unless otherwise noted.