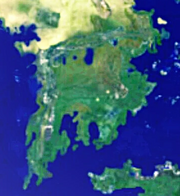 The Utter South (Q."Hyareccaira" , Ad."Êphalankharâdê") of Middle-Earth encomprised of all the Lands south of the Yellow Mountains and the Girdle of Arda, mostly wild and unknown tribal realms and lost former colonies the Black númenóreans. The subcontinent was also known as the Far Lands of the Sun (Ad."Êphalûrêzâin") or Dark Harad (Q."Hyarmenúla") and included most of the Dark Forests of the South.
Lands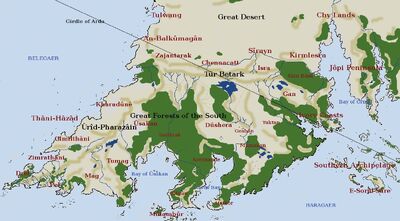 Regions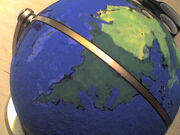 Alwa Araden Ardinâk Ardor Arm Sea Arnose Aronduin Aurax-Dûr Bay of Drêl Bay of Gan Bay of Orel Bay of Ûsakan Bushland Can Cloud Forest Corsair Coasts Silverbridge Silverbridge Pass Curinshiban Dark Forests of the South Dirsûlinor Elornan Shore Elornan Swamps Snakehills Hills of Eloro Hills of Wum Eris Gan Eris Mûmakil Eris Sarûl Norpûl Estuary Geshân Grasslands Great Grasslands Grey Hills Gulf of Mûmakan Inner Sea Hills of Wûm Horns of Hathor Hyarnustar Coast Isles of the Utter South Ivory Peninsula Jeedic Kann-Shamûrda Kanuka Forest Kimen Kâh Kôros Kôros Bay Kurryian Bay Lake Chunha Lilm Linore Loumond Makaburini Makuria Mangrove Maûmakanar Mitharmin Min Hathor Gimilhûrush Mund Nen Angwi Norpûza Onpu Mispír Peholn Pelanowi Pelegebu Plain of Araden Sâre Cape Sea of Seven Winds Seznebab Shayn Siresham Slave-Coast Southern Heat Sunlands Swampland Tathom Taur Galen Tharin Pinewoods Usakal Forest Ûsakan Bay Uvar Mighty Green Western Peninsula Yellow Mountains Zayantak
Settlements and Places of Note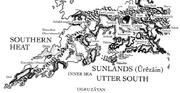 Akos Aksari Alsarias Alyahopa Amarû Ambadar Amber Ambûrak Amûdak Angkirya Anskaven Araphôr Arhazûn-Tarîk Arig's Tomb Arpel Arvarien's Maze Ashnâk Aurax-Dûr Azrukadar Azrulôni Bar Aosphor Evefalin Serpent Tower Barad Annûn Baruzimabûl Bâs-Imrazôr Base of the Order of Horûs Batamak Batumû Beasiri Bîn Blackflame Boa Tors Boas Isra Bûramak Bûrmudas Caras Hyarn Kar Mitharmin Ceresalas Citadel of Ardor Côr Minyadhras Darin Tesarath University Doba Cûsarn Dûrdamal Dûrlam Eitite Elemad Elomund Elrose Ephydis Eradem Fal Carth Falek Dim Fult Fylde Galshas Gar Gaven Gesathago's Lair Ghabaras Gobel Metharn Golden Rock Hammardal Harbâz Headquarter of the Order of Horûs Hoblern Holmgarti Hosis Inkamad Inyelis Inzillôni Irlm Isamal Isarak Ithilkîr Jessa Jesbutu Kadar an-Kharadûn Katerre Kêl Urdhâsâ Kimey Kinebú Kinn-Sâlâ Kirlôni Kírnak Kólvir Kondu Manara Korda Memare Kôrlan Korneros Laurre's Manor Lond Anárion Lond Hallacar Lótara Mablâd-Dûm Malmodrian Mamûri Marûd Meddâhâr Melathir Menelcarca Hargrog's Tower Mount Unicorn Mîrak Mîrdamas Mirisgroth Mispír Mûmarak Mûru Nárad-Dûm Naurlindol Nîlulôni Nioca Manara Norjadar Norpûl Nûlakad Ogamad Okavango Orp Angwi Orp Muva Oryalain Oskanda Oss-Lirion Ôsgimil Palé Pharabâs Phorakôn Place of the Watchers Port Bax Radagorn Rakal Ramôrth Rînaghnâti Ró-Molló Rolandae Sârâ Sarataiva Sarûl Sashal Seregul Keep Sessin Shendal Sirûl Siska Spire of the Flame Starseer-Mountain Sûlcoron Sylvana Tanith Târik an-Aruwânâi Tarû-Makar Taurang Tauronde Tesarath University Thaga Tharin Thelbane Thôrion Tîetâmâ Tilvirin Tilviron Tirgoroth Tombs of Oran-Plaar Trenth Tumlinde Turmag Ty-Ar-Rana Ûmakad Ûrlond Uskanda Vraniis Wedrulma Zadan an-Adûn
Peoples
Others
Kelvar:
Alligators Asps Aynîc flea Baboons brown-white antelopes Cape buffalo Cheetahs Cielimba Dubanari Cliff Lions Cobras Crowned Crane Curin Pelevag dik-dik elands Eris Squids exploding termites Fell-turtles Gemsbuck Golden Cobra Giraffes Gnu Grassland Antelope Graze Gazelles Great falcons of Ardor Green Twinspot Grey apes Grey Boars ground squirrels Hippopotamuses Hoopoe Hornbill Hyaenas Igûri Impala Jackals Jungle-Demons jungle Scorpions Jura Mwitu Kingfishers Kobus Great Crocodiles Leopards Lilacbreasted Rollers Lions Lion Hounds Meerkats midges Mongbats Mûmakil Nyala Ocelots Oliphaunt-Dogs Ormakûla Oryx Petlavi Porcupines puff adders Rain-drakes Red Baboons Rhinoceros Ringed Serpent Rock Hyrax Sarpi Slow-fangs Smallbears Sunbirds Trusavi Umakavi Uvag-Aak Vessino-Clams Wild Dogs Wild Horses Zamamakil Zebras
Olvar:
Almond tree Aykara Bâlak banana tree Carcátu Carneyar Culan Cûrfaláka Degîk Durad Fek flame of harad gildar Grárig harad daisy Hégheg hibiscus Hopper Mushrooms Hopperfoot Hugar Kakdúram kanuka tree karfar Kilmakûr Klandûn Kólandor Ky Lárusangwa Lisgereg mahogany tree mango tree mangrove tree margath Murnân orn-hevik Pasámar Pawf Rúd-tekma Sírimo Slird southbell Swûth Tarfeg True Tarnas Valanár Vulcûrax Vurâna Wék-wék Welwál Wîtav Yanar Yavin girith Yuth
Characters of Renown
Ainur:Anorel Aur Drul Chaurka Elenala Eos Gan Hathor Ior Kax Kel Lesh-Y Mourfuin Mûmathûmûr Tredeinos Vilwarokko Xarbanisan
Dwarves:Bain Falin Frór V Háin Lipor Thrain the Wanderer II Vafnir
Elves: Boah Agonar Irinn-las Ardana Ardaron Arduin Ardûval Cambëtyelca Camring Chrys Menelrama Crocil Kurkuwâra Curugond Dekdarion Dûranna Eldanar of Ardor Eldarion of Ardor Elendor Elor Erocil Featuri Gorthaur Morlin Ilkiran Khelekar Laurre Menelrana Linsûl Lyaan Lyrin Lysa Marwë Maug Mornaur Morthaur Palandor Persuvious Rilia Ruindel Sarkarxe Silion Sirnaur Sûhirok Suldun Taurclax Taurion Terilaen Tirial Tûranar Ufëa the Laugher Ulfeä Ulcamer Uromiel Sûlgwîr Valakar of Tálirán Valandor Valglin Valcahrissë Vallin Valmorgûl Valnaur Valsûl Vargas Veyus Yavekamba
Halflings: Droggo Nimblefingers
Men: Pon Acark Acuturion Agoth Akhôrahil Akhôraphil Amâv Anárion Apyssan Araphôr Arcastur Arcil Ardukhôr Ardulion Arkhahil Arig Arolic Arthrazoc Arvarien Breyd Busaah Caithneas Calin Wip Camëar Ciryamir Ciryatir Cluth Colmar Taltos Daroc Derei El Elenna Chy Elorion Elf-friend Epef Erarnil Es-amu Esfur Esgaphor Eshapar Esupel Estefar Ferris of Hathor Geel Hallacar Hasabb Hembur Smep Herundil Hylee Hyris Ikûr Imralion Er-Imrazor Imrazôr I of Zimrathâni Imrazôr II of Zimrathâni Imrazôr I of the Valdacli Imrazôr II of the Valdacli Imrazor III of the Valdacli Jenna Chy Jí Indûr K´ala Karaag Kayliss of Koronande kerrek Kratti Latrock Ló-desmic Lôkhazôr Lôkhuzôr Lomiran Lonkuran Loran Klien Loris L´rana Malezar Mirion Muhad Muthanna Nákhi Nargalen Ne-baraca Ne-eslem Ne-ula Ne-Wall Ne-wull Numa Olorakhôr Ôm-ura-Ôm Onome Orcir Oric Phorakôn Phôrakôr R´chaka Ricenaris Sancalis Sakarphôr Sangarunya Seregul Si Slûcrac Suhuy Talagani Tar-Anárion Tar-Ciryatan Tar-Kinjaarn Tar-Raumoher Tel Azef Ulcathur Ulfacs Ulrith Ulugu Umbin Swê Ûndaphel Urlaca Uthcú Uthmag Vaal Gark Valakar Vallir Wimbur Wonir Wyatan Yazan Zariya Zathâm Zollo
Other:Durnan Elros Gilsûl Moran Morelen Mûagar Orfarfor Sûlroch Voksa Taran
References
MERP:The Court of Ardor in Southern Middle-earth
MERP:Hands of the Healer
MERP:Shadow in the South
The Wild Lands East and South: Gazetteer by Pete Fenlon
Fanmodules:The Mûmakan
Trending pages
All items (237)
A
B
C
D
E
F
G
H
I
J
K
L
M
N
O
P
R
S
T
Community content is available under
CC-BY-SA
unless otherwise noted.