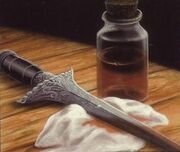 poisons are substances that can cause damage, illness, or death to organisms. In Middle-Earth poisons were used by Nightblades and Orcs as well as for coating Weapons.Most poisons were usually made of or taken of Plants or animals (such as Spiders and Scorpions) some of the more sophisticated poisons however were complicated alchemical potions.
Poisons:
Acaana Aechereg Aernaeth Angmarean Incense Angmarian Jessamine Annuisarnath Ansilus Asgûrash Asku Asp venom Athanar Bâlak Baranas Black Clover Blade hemlock Blue Eyes BragolithBrithagurth Brôrkwilb Calenhwan Carnegurth Cathâna NolgurthClugarth Coca Cumbunaica Dragon-blood Dîn Fuinen Dunach Egil's Vipers Elben´s basket Elfbane ennerling Falsereg Faltanar Fek frost poison Gaggur Gartân Giant cave bat Gorang Grelnixar Ground bee Gurthmallen Helbenien Hên Hendësangwa Henuial Henungol Hevîk Hith-i-girith Hôak-fôer HugarHugburtûn Hulmıkak Hwindos Igtúrfas Iraenis Joirhas kaktú Kennesank Kingsland's Mushroom Klabas Klynyk Lanthand Lárusangwa Lasdol Lead Lhugruth Life-tree loryaak Lothgalen Luku Madarch Mallic Marsh Adder Milk-white Trumpet Moourark morchathras Morgurth Mornasercë Mornindo Morsul Morungol Muilfam Muilfana Murnan Na-del nadrhach Natharin Natharin Ardor Nelissë Nerqal Nimnaur Nomaniva Nûr-Oiolossë Nurfraw Olochia Olórëlassë Olphiar Olvatári Ondohithui Ondokamba orn Orrain Otrovativi Palesis Palutrys Pangwood Pargen Pathur Pawlûn Pentanoth Phoroz Poison Ivy Pûra Pursrak Quilmufûr rock viper Ruth-i-Iaur Ruthin Sarnumen Shaking Asp Shardúvâk Sharkásar Shûtinis Silmírë Silraen Siran Siriena slign Slird Spider Venom Sulerrain Surlok Symk-arg-wy Tallassë Tarnas Tharfern Thaurwain Thraynîs Thrang Thurvik Thystine Toxin Trikassa True Tarnas Trusa Tûkamûr Turvîk Ulcerchainc Umakilis Ungoldos Ungolgalen Ungollos Ur Vault shrike Vemâk venom of dispair venom of fortitude venom of vigor Vurâna Water Hemlock Wek-bâs White Destroyer Witche´s Pie wood ylbell Wyvern-poison Yadaras Yake Yavin girith Yeggarûkh Yitsúkar Yitsútyr Zamkavi Zulium
Trending pages
All items (153)
A
B
C
D
E
F
G
H
I
K
L
M
N
O
P
Q
R
S
T
U
V
W
Y
Z
Ó
Û
Community content is available under
CC-BY-SA
unless otherwise noted.