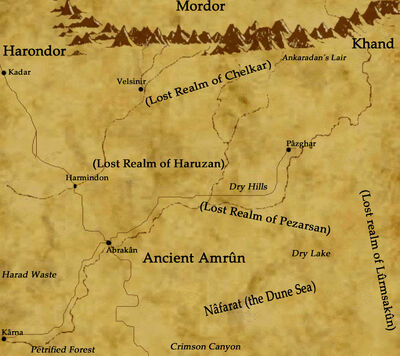 The lands of Near Harad (S."Nevharad"; Har."Harwan") were ruled by the sun. Along the great rivers of the country countless peasants tilled soil as rich as any in Middle-earth, raising bountiful crops of grain and feeding the people of numerous towns and cities. But the sun that drew an abundant life from this soil punished those who forgot its power. Heat and barren desert could slay the unwary; life and death in Near Harad began and ended with water. Armies moved from rivers to springs to wells to oasis pools, or defeated themselves without giving battle. Foolish adventurers who wandered into the desert without provision would perish of thirst and hunger as surely as someone running unarmed into a troll cave.
Near-Harad itself was divided into four major Lands, often rival realms: Umbar, Haruzan, Chelkar and Pezarsan, sometimes also Harmaka (Harondor), Arysis and Siakan were counted to the Lands of Near-Harad. In the late third Age all of Near-Harad was also known as Harwan.
Characters
Elves: Lardin Aril

Orcs: Ashturg Burdîlgoth Garg Nazog the Freebooter
Men: 1650: Carlon Gedron Pal Abas Haruth do Ramam Kalik do´Altir Marreth Meriot Middat F´rtena Shamara sut Katub Slimfinger Yanina Yashar
3019: Alchmar Alukhôr of Umun Alviss Caiode Castamir Dalamyr Haladdin Kâldor Khrâd Nissin Krel Banid Maazin Mdikva Qamara Rozilân Hûrazgar Saléme Shebbin-Vûr of Harwan Tamath Hossish Tangorn Vygavril Zokhad of Hawa
Settlements and Places of Note
second Age: Ayn Arom Hamat Maresh Korb Devral Nurnas
1650: Abad Aranel Abârlôni Adûnalkar Aegthelion Aelin-Kelia Alsan Amon Eithel Amonost Amrûn An Karagmir An Pharaz An Ruilin An Sakal An Tarim An Zalim Anakreon Ancalimon Ankruz Ardûmir Asni Dat Ausk Harmaka Bar Malduin Bar Númendur Barad Caranond Barad Ecthelion Barad Erdegil Barad Harn Barad Laer Barad Sûl Barad Valasaga Baradruin Barazôn Batina Blacksand Vale Bogath Brafenas Bûr Anwarmen Bûr Baldin Caldûr Caras Glingal Caras Mirilond Carnenost Cirith Núrn Cynor Deshgar Dibis Dirnen Dol Annabrith Dûsalan Echorbel Echorost Eithel Angir Eithel Thurin Engiz Enmahadh Eradas Erelond Esgar Ershawar Feah Galadrin Gizar Gobel Ancalimon Gobel Mirlond Harmindon Has Adri Has Annûn Has Faday Has Sabiya Has Yayb Havens of Umbar Hawa Hingrenost Hospice of Lost Faith Hyand Byth Hyarpende Iguatalp Iant Amrûn Imak Peh Imlad Carnen Imladris Iron Mine Isigir Itheranon Ithilgonnost Jonprok Jug rijesha Kadar an-Bêlabâr Karab-tarid Karsum Kas Auchel Kas Shadoul Kas Shafra Khurd Kiba Koponzho Korb Chelkar Korb Taskral Korb Ugata Korondaj Kres Lugal Kruk Azhanna Kruk Boyadla Kruk Datmen Kruk Mahur Kul Dinbar Kupsha Kyzilkum Layotam Lugarlur Marcos Maresh Maros Methir Mikarin Peh Mines of Garmagoum Mount Arysis Nârik-Zadan Neledhnin Nen Falastir Nen Hingren Nanmárros Nindad Estolad Números Oasis of Five Palms Ode Tesar Old Lighthouse Ruins Oud Ilaz Pellardur Pin Hingren Ramlond Rul7n Coppermines Saralôni Sarkâna Shalaz-Haím Shavar-Shavan Sook Ada Sook Asni Suk Abârrîm Suk Avalôi Suk Oda Suk Abârrim Sukh Akhôr Suul-dhurn Talazhan Taloc Passage Taras Tarîk an-Ârûrud Tarma Tar-Calion Tharren Tharven Thonibar Tir Ethraid Tir harn Tiras Amrûn Tirith Argon Tol Glingal Toresk Trihja Pek Ûrelôni Vamag Varnakh Velarith Vetedris Wathduin Zhaneen
3019: Abrakân Anakreon Ankaradan´s lair Ankruz Azkahar Badkarkân Baldarûm Bogach Brafenas Budharkan Celentir Enmahadh Galenwath Gizar Glamorgarth Hamen Haranaer Harmindon Hsar Karnakh Hyarmen Ich´ahon Imak Peh Janprok Ka´hae Kadar Kârna Karsum Korandaj Kruk Boyadla Kruk Mahur Layotorn Marash Marcos Mârdanath´s spire Mikarin Peh Mogurakh Nodurân´s Cave Parzee Pâzhgar Rahokan Talazhan Theranol Torask Umbar Umun Urabhaya Varnakh Vatavea Velsinir Vetedris Zimralôni
Regions
1650: Aegardh Amrûn Angast Annabrith Arat Agmir Ardûmir Arysis Asni Dat Ausk Dubat Ausk Harmaka Bay of Umbar Blacksand Vale Burning Walk Bursk Mareg Caldûr Cape Umbar Caradhram Núrn Chelkar Cirith Glingal Cuivierant Cuivierant Forest Dat Akhôr Dune Sea East March Emyn Annûn Emyn Imladrim Eradas Eraguk Ered Harmal Ethir Harnen Ethirest Falai Glinfalas Gondeithel great desert Harondor Harnen Harnendor Harnen Territory Harnun Dat Haruzan Has Sabiya Haunted Cove Hills of Ruilin Huk Saromis Hyarmendacil's Cape Hyarmenfalas Imlad Carnen Ird Hulaig Ird Zodima Isigir Isles of Shegga Kajbah Kirithani Korb Taskral Korb Ugartha Kres Lugal Kruk Ard Kruk Fedalk League of Abârlôni Lonely Islands (Harad) Lower Khand Lurmsakun Mardruak Marg Murak Maros Middle Ered Harmal Passes Miraz Mírlond Nan Gondeithel Narvir Near Desert Nen Umbar North Reef Ode Pezar Pellardur Petrified forest Pezarsan Pin Hingren Porosard Rahokan Reaver's Cut Redcliff Coast Redwater Res Romenor Ruilin Hills Rulin Ode Sakal an-Dalajaf Sakal an-Khar Siak River Vales Siakan Stone Fields Suncrown Suul-Dhurn Talath Naur Tharven Tol Avradi Tol Cirya Tol Erib Tol Glingal Tol Mund Tol Uialgaer Urdwaith Vamag Velarith Zayan-an-Khârurush
3019: Bay of Umbar Calenfalas Cape Umbar crymson canyon Cursed Land dry lake Dune Sea Four Winds Pass great desert Harwan Haunted Cove Narvir Petrified forest Umbar Vadi of Umbar Yâd Hakar
Peoples
Creatures
Antelopes Aryx Banded Viper Camels Cattle of Near-Harad Chipmunks Desert Boar Desert Pumas Desert Wolves Devam Dolphins Ferath Fire Ants Gazelles Gembucks Gemsting Giant Rats Giant sloth bears Goats Great Apes of Umbar Gulls Horses Kingshorns Kjerat Kraken Leopard Lions Pigs Pit Spiders Sand Devils Sea-Turtle Seals Sheep of Near-Harad spotted Lion tawny Lion Tishna Whales Wild Cattle Wild Dogs
References
MERP:Far Harad The Scorched Land
MERP:Forest of Tears
MERP:Greater Harad
MERP:Hazards of the Harad Wood
MERP:Middle-earth Adventure Guidebook II
MERP: Middle Earth Campaign Guide
MERP:Nazgul's Citadel
MERP:Pirates of Pelargir
MERP:Umbar Haven of the Corsairs
MERP:Warlords of the Desert
merp.com wikiHa
Other Hands:the Realm of Bellakar
Fanmodules:Near-Harad - Realms ruled by River and Sun
Fanmodules:Near-Harad - Realm on the edge of the world (by Julien Favre)
Trending pages
All items (197)
A
B
C
D
E
F
G
H
I
K
L
M
N
O
P
Q
R
S
T
U
V
W
Y
Z
Community content is available under
CC-BY-SA
unless otherwise noted.