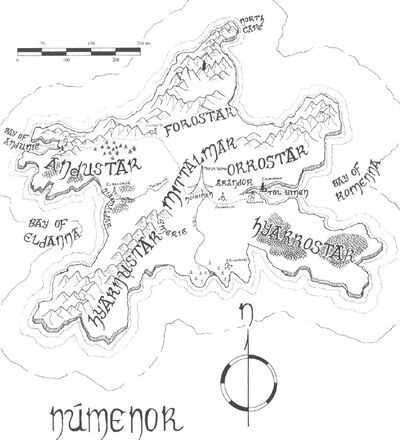 Númenór
(Q."Westernesse") was the great island continent located in the middle of the
Great Sea
until its destruction (Downfall) in
Second Age
3319. From the early Second Age until its Downfall, Númenor was occupied by the
High Men
(or
Edain
) who called themselves
Númenoreans
. These Men were the ancestors of the
Dúnedain
and
Black Númenóreans
. Númenor literally meant West Land and was the westernmost home of
mortal Men
.
Elves
called it
Andor
, the "Land of Gift."
General Information
Type: Island Realm; Various Mainland Colonies
Area: 167,961 square miles
Elevation: Highest Peak Meneltarma approx. 23,622 ft
Climate: "dry-summer subtropical" ;warm to humid summers and mild winters
Political Organization: Theocratic Monarchy; Composite Monarchy
Ruler: High-King of Númenor; Council of Lords (comprised of the Lords of the Fiefdoms)
Administrative Organization: Monarchy with proto-feudal elements
Population:Early times approx. 1.000.000 later times up to 12.000.000 (Including Slaves but excluding colonies)
Military:100.000 - 1.200.000 (excluding Colonies and Auxiliaries from Middle-Earth)
Products:Fishing , Sheep farming, Grain, Wines, Fruits, Horse Breeding later: Whaling & Slavery
Symbol: Star of Westernesse
Other Names
Settlements and Points of Interest
Regions
Characters
Abârzagar Abrâzâni Adûnahil Adûnaphel Adûnazil Adûnazagar Adûrazil Âghi-deghi-Dhûr Ailinel of Hyarnustar Akhôrahil Akhôraphil Alcariel Aldarion Almarian Almáriel Almiel of Númenór Amandil of Andúnië Anárion Elendilion Ar-Abattarik Ar-Adûnakhôr Ar-Belzagar Ar-Gimilzôr Ar-Pharazôn Ar-Sakalthôr Ar-Zimrathôn Aratan Ardamir Ardûmir Arimûr Atanalcar Aulendil of Andúnië Axantur Baian of Syntar Barach Bedaian of Númenór Belzagar of Formenos Beregar Caliondo Cemendur Ardamirion Cemendur Axanturion Ciryamir Ciryatir Ciryatur Ciryon son of Isildur Corianna Cyrondur Dâur abâr Durlund Eärana Eärendur of Andúnie Eärmacil Edhelion of Eldalonde Edhelion of Dor-en-Ernil Elatan Elendil the Tall Elendur Elros Tar-Minyatur Ercamir Erendis Tar-Elestirnë Ermithdin Er-Endohir Er-Imrazôr Er-Mûrazor Ermithdin of Alarkadar Fíriel Fuinir Fuinor Fuinur Gaurithoth Gilthalion Gimilkhâd Gimilzagar Gorlim of Númenór Hallacar of Hyarastorni Hallatan of Hyarastorni Hatholdir Henderch Herucalmo Herumor Hûmazîr Îbal son of Ulbar Imrazộr the Númenórean Imrazôr of Pelargir Inzilbêth Isildur Elendilion Isilme Isilmo Lindárië Lindissë Lindórië of Andúnië Mairen Malantur Manwendil Maramacil Melian Meneldil Nessanië Nolondil Númendil Númendur Núneth of Andustar Orchaldor Oromendil Orondil Orontor Poldor Rádil Razanur Sakalzîr Silmariën of Andúnië Soronto Tar-Alcarin Tar-Aldarion Tar-Amandil Tar-Ancalimon Tar-Ancalimë Tar-Anárion Tar-Atanamir Tar-Ciryatan Tar-Elendil Tar-Meneldur Tar-Minastir Tar-Palantír Tar-Súrion Tar-Telemmaite Tar-Telperiën Tar-Vanimelde Tar-Vardamir Taramin Thamachor of Ankadar Tindómiel Ulbar Ûrîzagar Valandil of Andúnie Vandion Vardilmë Vëantur of Rómenna Yávien Zadanzagar Zamîn Zimraphel
Creatures
Flora
Trending pages
All items (15)
Community content is available under
CC-BY-SA
unless otherwise noted.