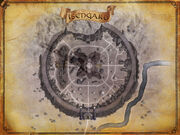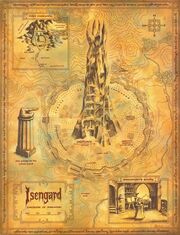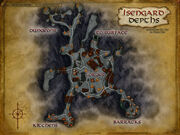 Isengard, originally built as Angrenost.
Type :Citadel .
Inhabitants :Dunlendings and Orcs.
Population :steady 3.000. in Times of need a garisson of over 10.000 from the Nan Curunir and allied areas.
Origin :First used as a stronghold by Númenoreans around S.A.1750, completed by Gondor in T.A.14.
Purpose :Control of traffic passing through Gap of Calenardhon; administration of northwest Gondor.Later: capital of Saruman's realm.
Symbol :originally The WhiteTree.Later the white hand
The impenetrable tower of Orthanc formed the core of the defenses, with a vast circular wall one mile in diameter providing the first line of security.The earth itself formed the citadel, for the outer ring was a volcanic cone shaped by the Men of Númenor with the help of Hill-giants and the spire of Orthanc was in fact a pillar of glossy black volcanic rock known as laen.
Angrenost represented the northwestern extent of effective Gondorian power.The King of Gondor maintained a large garrison here to keep the warlike tribes of Dunfearn in check.Travellers on the Old North Road frequently made a sidetrip to Angrenost to exploit it's fine and fully stocked reprovisioning facilities .
Places of Note:
Outer Valley

Merchant camp - set up by the Dunlending Ox-Clan, southeast of the Main gate and outer wall close to the outer vents and drainage
Great Sawmill out of the northeastern wall in the hills bordering in Fangorn Forest
The Quarries - north of the outer wall, in the foothills of Methedras

Plain of Isengard

The Basin

Crescent Fall - northeastern wall
Crescent Lake - eastern central plain
Open Pit - eastern and southeastern central plain
Pools under the Mountain - northern central plain

Camp-ground - southern central plain
Food-plots - northeastern central plain
Forest of Isengard - largely deforested except for small spots near the central inner walls
Forges - Northwestern central plain
Garden Plots - central plain around Orthanc Courtyard
Main Road or pillar-lined road
Mountain-Stream -northeast of the outer wall
Path of Copper
Path of Iron
Path of Limestone
Path of Marble
Path of Metals
Path of Slate
Path of Stone
Shafts and Vents - north, west and northwestern central plain
Tower-Platforms - western central plain
training and assembly ground - southern central plain
Ring of Isengard

Ringwall

Fifth Portion of the Ringwall

Armouries
Barracks

Uruk-Hai Barracks - outer wall southwest

Barricades - Southeastern inner wall
Brewery
Craftsmen's Quarters and Workshops
Gates of Isengard
Guard House - Outer wall south central
Guard Towers - nine outer towers and four inner towers
Living Quarter - western and northwestern inner wall

Men common rooms and Quarters - Outer wall Northwest
Uruk-Hai common rooms and staff - outer wall east

Mill
Pens
Ringwall-Chambers
Sewers - eastern and southeastern outer wall
Slaughterhouse - Southeastern inner wall
Stables

Horse stables - outer wall west

Store-Rooms - Outer wall east and southeast

North-most Storeroom
South-east Store-room
Treasuries
Western Store-room

Tunnel-Guardhouse
The Vents - eastern and northeastern outer wall
Waterfall - northern inner wall
Weapons caches - outer wall southeast
Tower of Orthanc

Apprentices Bedrooms -4th level, inner circle northeast
Black Door
Bridge of Orthanc - leads to the tower from the Inner circle of the Plains if Orthanc
Courtyard - surrounding Orthanc
Dining Room - second level, inner circle southwest
Drawing Room - second level outer wall, north
Guest Bedroom -second level outer wall east
Khidiz' Chambers
Kitchens - first level, outer ring south
Laboratory - fifth level outer wall east
Great Library - third level outer wall east
The Long Stair
Observatory - top level, outer ring
Palantir Chamber - sixth level, outer wall west
Saruman's Bedroom -fourth level outer wall south
Saruman's Study - fourth level outer wall north
Sitting Room - first level outer circle north
Small Stairway
Spy Chambers
Throne room - 3rd level
Tower Armoury - second level outer wall east
Storeroom - first level second circle west
Treasury -fourth level outer wall east
Underground of Isengard

Armourer's furnaces and smithies - southeastern central underground chambers
Caves below Methedras
Deeps beneath Orthanc

Experimentation pit -2nd deep
Heart of Orthanc - 7th deep beneath Orthanc
Crystal mines - 2nd - 5th deep
Laboratory - 3rd deep beneath Orthanc
Old Library - 2nd deep

The Foundry - northeastern underground chambers, 1- 7th deep

Bellows room - northeastern underground chambers, 7th deep
the ring-forge of orthanc - in a mountain hollow northeast of the outer wall in the foothills of Methedras
smelting room - northeastern underground chambers 5th deep

Isengard Depths

The Dungeons

The Chain-Room
Chamber of Chains

Fire Storage
Mixing-Rooms
Orc-Forges -northwesteen central underground chambers 6th deep
Orc-Stores
Orc-Warrens - northeastern outer cave systems

Outlet - southeastern underground area, 6th deep and below
Pits of Isengard

Pit of Abomination - inner Ringwall
Ring of fire - northeastern Underground 6th deep and below, close to the caves below methedras
Warg pits - southern central underground Chambers

Slave Quarters
The Tunnels

Main Tunnel
Tunnel-Stables
Spawning-tunnels

Uruk-Hai spawning tunnels - east central underground chambers

Underground Armoury
Underground Passages of Isengard
Underground Store-rooms
Weapon developement - southwestern central underground Chambers
Hierarchy of Isengard
See:
Sorcerers of Isengard
mannish Adherents of the White Hand and Appretices of Saruman's
Orc-Sorcerers
Military: Half-Orcs:
Half-Orc-Elite
Half-Orc Spies and Assassins
Mannish Servants:
Guards of Isengard
Workers, Spies, Rogues and Travellers
Orcs:
lesser Orc Guard, Lumberjacks, Workers, Slaves, Craftsmen, Smiths and Hunters:
Isengard-Trolls:
Characters
Ainur: Morgayamar Saruman
Dwarves: Khidiz
Men: Acca Athelwyn Baldgar Berethor Bocaern Crisiant Dianach Drustan Dúach Dulan Elred Feanar Redwing Gálwa Gergenau Golvorn Gríma Wormtongue Gun Ain Hiyalate Huva Kenned Melmidoc Oldenad Penrith Perchen Rána Svinder Tossel Taladhan Usgarren Valecarn Yagthak
Orcs: Arhuan Baartazgur Barkh Bashkuga Baugúr Borgthaur Botglim Broghásh Brogud-Lûk Bughrakh Bugrug Bugud Bukot Burgûl Búrz Búrzash Bûrzthrâng of Isengard Dâgalûr Dagam-Bûrz Dâl Dargum Dhâr Doeth Durbuhuk Euog Farmak Fâsh Fis Flint Ironheart Flizpot Flurg Frushkûl Garmog the Overseer Gashbuz Gat Gazdush Gazmog Gaznag Gazthak Ghashanuz Ghuribal Gluthrak Gnaznak Golb Gordush Gorhúr Gornag Greb Grimbosh Grimrod Gudul GûjahGundul Gurbash Haian Hoital Illska Iorweth Jargash Karvag Keesh LagûrzLong Tom Lugdush Lughúr Lugthak Lûnt Lurtz Markûl Mâtum Mauhúr Maunag Mauthak Mirz Móg Morflak Mokrûk Muagan Yelloweye Mugash Murfarg Muzthak Naakhûrz Nagrut Narrûsh Nugud Orlug Pok Radlúk Ras Rung S'haara Saakãf Sagrúrz Sarf Sargulk Sharku Skútog Slugen Crowfoot Snaga (Isengard) Snagrat Snargab Talug Talûn-Karkû Thak Thrugg TroshnákhUglúk Undúrz Urbhár Urdan Ushater Vrarz the Cook Vurbôk Vrasku Wirg Wrnach Zabúrz Zerlúk
Trolls: Barashal Dargnákh Fúshbraf Gathaz Gurbak Haglob Kabor Ironarm Kâlbak Ufdrágh Zagh Zakrif
others: Caru the Crow the Ghast Morulur
Names:
Angost
Angrobel
Irongarth
References:
Trending pages
All items (197)
Community content is available under
CC-BY-SA
unless otherwise noted.