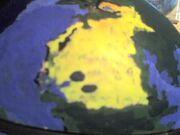 Haradwaith (S."Southern Folk") was the name applied by the Men of Gondor to the lands of Harad, which had once been gondorian provinces or otherwisely tributary to the south kingdom. They usually differanciated between Near Harad - roughly as far south as the Nen Umbar - and Far-Harad - the lands as far south as the Dúnadan kings ambassadors had ever travelled, but even if gondor periodically controlled the Harad Road, it never fully ruled the Harad Desert.
Realms
An-Aras Arysis Bellakar Bellazen Bôzisha-Mîraz Bûlkhyades Chelkar Chennacatt Khy Khyan Klyan Felaya Harondor Haruzan Harwan Isfahan Isra Kîrm Lesra Kóanoz Lódenûly Lonely Islands Lûrmsakûn Mardruak Múran Oroboro Pezarsan Rây Sára Básk Siakan Sîrayn Soriya Tulwang Umbar Unâv Yâd Hakar
Regions
Andesalke Ayn Vales Bellazen Bishra Briy-Miyeséc Burnt Sands Calenfalas Cape of Squid Coast of Harad Chennacatt An-Balukkhôr Cursed land Deral-Khôr Desolate Land Drêd Dry Hills Dune Sea Far Fields of the South Felaya Fertile Valley Forests of Far-Harad Fire Plain Foothills of Mordor Forbidden Coast fourwind pass Freel Gái Gulf of Harad Harshandatt i-Torqeler Isra Jungle Trail Kanyar Kegim Harar Kek Ara Kek Kuyu Kek Lop Kês Arík Kesim Eski Kîrm Vales Lithaer Lonely Islands Lush Jungle Mardruak Marg Murak Mavi Mirror of Fire Moghóly Dásk Mûmak Trail Nâfarat Ouil Pelican Islands Pezar Cataracts Pharazain Póansú Raishoul Rây Rásk Red Sea Rîyesha Rók Sahóra Saiwa Salkinóre Sára Básk Sashavat Steep Plateau Sûza Riy Sûza Sûmar Sûzesha Tol Glingal Tol Uialgaer Unâv Walien Yól Déve Yól Harshandatt Yólu Tebesh
Settlements and points of interest:
in 1650:
Abarrukh Aelinost Ayesfa Akhûl Akhúlsu Aksari Al-Ramâdi Ammu Khand Amrûn An Karagmir Ancalimon An-Harn Ankrúz Anwaz Apisêr Asayt Hór Athrad Poros Auz Azúnan Ayn Bál Balyâna Balkuzôr Bampóa Baruzimabûl Baud Sélen Bishra Bóas Isra Bôzisha-Dâr Bur Esmer Bûr Sakal Calatirion Chayapûn Charnesra Deyka Dezful Di-Gák Drêd Dûsalan Enmahadh Erelond Eskisú Evepóa Evesélen Féah Fhûl Fuinur's Well Fult Galatây Gizar Gobel Ancalimon Great Oasis Gusar's Djebel Har Shûlam Harshport Hau Nysrin Hazay Tollin Hidden Shrine Hiya Ice Seller's Estate Imak Péh Ingelis Isrésk Yanprok Ióam Iórash Iunast's Oasis Kadar an-Kharadûn Kalnárti Kandalar Kantilya Kás Torad Kélen Kenk Khibil Êphalak Khorsây Kîrm Kópanzke Korlêa Korneros Korondái Kuliyar Kún Kuyu Akrep Kuyu Mávi Kyzilkum Lighthouse at the Bay of Octopusses Lonsilmo Mablâd-Dûm Maraghen Maresh Meyhát Memphêt Miyôre Moghóly Dask Monastery of True Faith Mulalik Cemetary Murghyr Naerphys Namagalûz Narad-Dûm Naragûl Narîk-Zadan Naray Nashar Nîlûlôni Noryadar Ny Chennacatt Nykkea Onak-Yî Ruins Ostkêr Oud Ilaz Ôvatharak Pelepelplû Pelnatés Póan Préd Pyarador Qanath Raishoul Rásk Rîntark Rók Roppro Rumyar Samârth Sarái Sarnak Hór Saz Neyya Shand Tûlaim Sôriya Sturlûrza Khand Sûd Sicanna Sûda Cull Sulay-Dâr Sûza Riy Târik an-Nardûvi Tarkhesh Tarnet Barzain Tarnet Barzam Tartaust Telarûd Tenôlkachyn Thrî Zirakan Tir harn Torásk Tower of Birds Tresti Tûl Harar Tûl Isra Tûl Póac Tûr Aylra Tûr Kîrimar Tûr Kirnar Tuthys Tyarett Ulsú Ûrêzâyan Urud an-Khibil Uyvhan Adesh Vallondë Well of Iunast Well of Ladnôca Xyunia Yenndrêd Zadan an-Adûn Zimra-zadan Zimrenzil
in 3019:
Abrakân Ai Nerdira Amon Lhach Asubûhi Azkâhar Azmaroth Azrakadar Azrazayan Bâdharkân Basiva Broken Courtyard Celentir Cirith Gurath Cobwebbed Cavern Cynor Cursed Temple dark hold Desert Bastion Dharân-sar Drowned Graves Flooded Ruins Forest Clearing Glamorgarth Hamen Haranaer Harmindon Harshport Hidâr Kadar Kairawan Kârna Khemnahr Kinsuun Mârdath´s spire Muzdal-Ifar Nafarat Narabel Shrasar Nimir oasis in the middle of the desert Overgrown Village Parched Wadi Raqqa Rhaduras Oasis Roofless Tower Ruins of Ages Past Savax Scorched Hamada Shrine to Morgoth Siraf Solendon Southron Boma Spider Burrow stone village Tarzhayan Tavorús Telshar three Kings Turseg Ubulla Umbar Urabhaya Vatavea Velsínir
Peoples:
Dwarves:
Elves:
Orcs:
Trolls:
Men:
1650:
3019:
Characters:
1650:
Men:
3019:
Elves: Lardin Aril
Men:
Black Numenoreans:
Abrakhôr Agânuzir Alcârin Azgarzôr Azruthor Balakhôr Dolgimil Dolguzîr Zagaroth
Gondorians:
Haradrim:
Abaan Abedec Acranar Adîrjan Ajax Akimun Al Tufayl Alcârin Alchmar Bhâdra Bravahn Busaah Castamir II Chan-két Doloi Cîath Dalamyr Damkalb Darik Daugha-tûm Daxamat Delgamar Drôzhna Eye of Dolgimil Fhaleen Gâlan Ghâric Gulcâr Gûtharic Hamarsun Hasabb Hasong Hebîl Hokhir Hosdam Ivic of Harwan Jajax Jerrek the Cripple Jilaâd Jubayr Jubuya Jukotor Kâldor Kahliel Kalsarid Kamril Kang-kethek Kasota Kathôl Kesekhos Keterang Khabec Khas Rûktar Khutâ Khuzaymah Khrâd Nissin K´kala Kisung Teng Krel Banid Kuri L´rana Latrock Luruyak Marakin Mardat Marudîr Mauthoi Menuyo Middat F´rtena Mota Muhad Nasar Okursa Pergamir Pergan Pon Opar II Okurayo Ossim Rallah Qamara Ralthat R´chaka Râza Saleme Suladân Tabadam Tamath Hossish Temyylok Thai-chât Thisarti Vangir Varkan Vâshnir Velnakir Vilosh Yamanim Yambahul Yazan Vygavril Warad Waradi
Orcs: Luftak
Trolls: Anbúrz Gorzum Mâsorgh Morgrish Shataz Shatúpash Ugturu
Other: Kethat-sai Lokhu-achi Thangol-ya
fourth Age:
Men:
Creatures:
A-Lori-ma-lau Biting Insects Caja Camels Celjust Gusters Cicati Cijuvi Niavimi Crocodiles desert Orao Desert Warg Dun-coloured Rabbits Elephant Hounds Fell-beasts Giant Centipede Giant Scorpion giant sloth bears great apes of Umbar Great Spiders Guardians of the Jungle Hanajaib Harad Tiger Hultif Hyena Izhta Jabali Jackals Juthjuth Kjerat Koza Latava Lesinavi Lisicavi Marnetta Majmun Mûmakil Otrovativi Papigu Petlavi Prairie Dogs Prairie Rats Prase Quaquam Ru-Lani-Lapu Sand Devils Sand Viper Sarnúmeni Sashavac Simbavi slow-fangs Stetanavi Strangling Python Tasidii Uncavi Vessino Clams Vuk Weeping fever-Gnats Wild Goats of Chennacatt Zamkavi Zimaj Zujati Zurkuvi
Trending pages
All items (84)
A
B
C
D
E
F
G
H
K
L
M
N
O
P
R
S
T
U
Y
Z
Community content is available under
CC-BY-SA
unless otherwise noted.