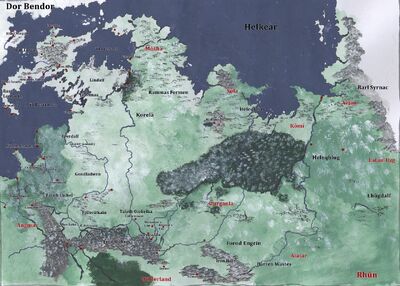 The Forodwaith was also known as the Northern Waste. It was bordered by the Ice bay of forochel in the west and the Barl syrnac in the east. The term Forodwaith derived from a people that had inhabited the northern wastes in the second age whom the Númenóreans called Forodwaith, their descendants were known as the Lossoth or Lumimiehet, other tribes who were closely akin such as the merimetsastajat and jaamiehet still inhabited the western parts of the northern wastes.
Regions
It included the regions:
Ai´atar Annûforodwaith Azjan Barl Syrnac Barren Wastes Bear Forest Cirith Feathir Darn Grine Dor Bendor Durganlu Dúrin´s Plain Dyr Edge of the World Mountains Everdalf Fen Tundra Fire Tundra Forod Engrin Forovirkain frozen forest Hebringli Heleqfalas Heleqlhug Helkasiril Helkear Hills of Angmar Järvamaa Komi Korëla Landless Land Lhûgdalf Latân-Uzg Lindalf Lôkosîr Mosha Nan Lóke Nimfalas Northern Shores Northern ice cap Northern Waste Rammas Fornen Rhûforodwaith Ringli Sarth nia Linquelie Scrubby Tundra Stone Tundra Sula Talath Oiohelka Talath Uichel Taur Orthon Thorenaer Walls of the World Wash Tundra Withered Lands
Settlements and Points of Interest:
Ashkia Temple Brinkerknocks Homestead Buzan Cave of the Ice-Hag Celeb-ost Cliff House Collarmount Daddy Nöel's House Dumblor Manor Foroloth Forotarma Grotto of Bears Haevod Harne's Grotto Hyvät Kajat Kala Dulakurth Kivataa Illugasatjuat Lior Wodai Berne Lumikissa Merikoira Ranta Mokh-Lug Karn Mount Udûn Númenórean Tomb Orod Certhas The Pits Pits of Utumno Rüzgar Duvar Shab Arch Thafar-gathol Thalas Thollakar Urdic Camp Vasaran Ahjo
Characters
Aluenda Daddy Nöel Grandfather Yule Green Brother Ilbereth Karhu Mr. Cave Bear Osgari Lea the Trickster Paksu Storlaga Ulbandi Valkotukka Waetryth Jäänainen
Peoples:
Orcs:
Men:
Trending pages
All items (107)
A
B
C
D
E
F
G
H
I
J
K
L
M
N
O
P
R
S
T
U
V
W
Community content is available under
CC-BY-SA
unless otherwise noted.