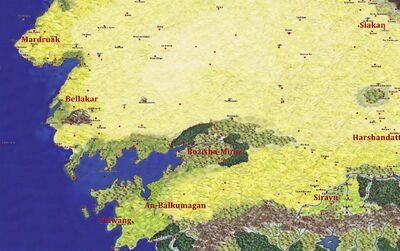 The southern reaches of the vast arid area known as Haradwaith, Far Harad (S."Haercharad") encompassed all the lands north of the foothills of the Yellow Mountains and south of the line between An Aras on the Belegaer and Clyan along the flank of the Ered Harmal. The highlands called Rây were the cultural center and richest region of Far Harad. Bôzisha-Mîraz was the southern Haradrim's name for Far Harad, especially referring to the Lands surrounding the Rây.
Characters
Men: 3019: Alchmar Drozhna Fasimba III Ivic Jerrek Marudîr Muhad Pon opar Qamara Saleme Suladân the Serpent Lord
Orcs: Savgak
Regions
Akhûlsas Altin Ammu Baj An-Aras An-Balukkhôr Ankruz Arysis Ashatur River Ayn Bampóa Bay of Bozisha Bay of Octopusses Bay of Squids Bellakar Bellazen Bishra Bôzisha-Mîraz Briy-Miyeséc Bru Isra Canzej Vale Cape of Mardruak Cape of Squid Chennacatt Coast of Harad Coral Sea Cynar Dakhûme Deve Entol Devesú Djebel-ta-Olaja Drêdar Dune Sea Ello's Butte Emek Daglir Emek Kum Pirtwa Emek Raska Erim Póa Eskisú Felaya Fire Plain Gái Ghabaras Harshandatt Hyarnustar Coast Isfahan Isra Isreisú Kanjar Kek Ara Kek Densmek Kek Iliri Kek Irmak Kek Kuyu Kek Lop Kek Sauba Kek Tepe Kenk Ker Tamak Kes Arik Kesim Eski Keskin Harar Killing Fields River Kirm Kirm Lesra Koanoz Kurryan Bay Mardruak Maudar River Mavi Moghóly Dásk Ne Deve Ne Saiku Ne Tava northern Bellakar Ogladalo-Vatra Ornad Ouil Path of Junast Pelican Islands Póansú Raishoul Raj Rijesha River Rask Rók Sakal an-Dalajaf Sal Sara Bask Sathavat Seznebab Siakan Sirayn Sîresha Sîrsis southern Bellakar Susa Rij Susesha Suza Sumar straits of Bishra Tabor Tol Uialgaer Tulwang Tresti Ulsú Unâv Yel Chennacatt Yól Deve Yól Harshandatt Yól Isra Yólu Tebesh Zajantak
Peoples:
Settlements and points of interest:
1650:
Abarrukh Ajesfa Akhûl Akhúlsu Aksari Al-Ramadi An-karagmir An-Harn Ankruz Anwaz Apisêr Arnamas Asayt Hor Auz Azunan Avashar Ayal Koyren Ayn Bál Bampóa Baradaphel Barthanan's Home Baud Selen Baruzimabûl Bishra Bóas Isra Bóas Melesra Bóas Ores Bóa Tors Bóasiri Bozisha-Dar Bûr Esmer Bûr Sakal Chabaran Charnesra Dejka Dezful Di-Gak Drêd Dûsalan Erelond Erizan Keep Eskisú Evefalin Evepóa Eveselen Fhûl Fuinur´s Well Fuinur's Deeps Fult Galataj Ghabaras Great Oasis Gusar's Djebel Har Shulam Harshport Hau Nysrin Hazaj Tollin Hidden Shrine Hija Ice Seller's Estate Imak Peh Ingelis Isresk Janprok Joam Junast´s Well Kadar-an-Karadun Kadar-Ûrêzâyan Kalnarti Kas Torad Kelen Kenk Khibil Ephalak Khorsâj Kirm Kopanzke Korlea Kref Masar Kulijar Kun Kun Anyam Kuyu Akrep Kuyu Altin Kuyu Mavi Lighthouse at the Bay of Octopusses Mablâd-Dûm Maraghen Mejhat Melem Laza Melem Voda Memphet Minas Harad Moghóly Dask Monastery of true Faith Mulalik Cemetary Murghyr Muringas Naerphys Nahir's Arboretum Narad-Dûm Naragûl Narahn Narik-Zadan Nashar Né Saik Nîlûlondê Norjadar Ny Chennacatt Nykkea Onak-Ji Ruins Ostkêr Póan Pred Pyarador Qanath Raishoul Rask Rîntark Rók Roppro Rumyar Saraj Sarnak Hor Saz Nejja Shrine of Ankatare Soriya Sudu Cull Sulaj-Dar Suza Rij Tarik an-Naduri Tarkhesh Tarnet Barzain Tarnet Barzam Tartaust Telarûd Tir harn Torask Tresti Tower of Birds Towers of Sharg Tûl Harar Tûl Isra Tûl Póac Tûr Aylra Tûr Kirimar Tuthys Tyarett Ulsú Urud an-Khibil Uyvhan Adesh Well of Junast Well of Ladnoca Xyunai Yenidrêd Zadan an-adûn Zamak Zimrênzil
3019:
Areb River Asturasartes Asubuhi Azhkâhar Azmaroth Azrakadar Azrazayan Badkarkân Cynor Deeps of Fuinur Hidâr Kârna Khemnahr Lake Rómenamon Lake Tabor Mûmakil Cemetary Nimir Tabîr River Tavorus Telshar Tul-Tarzhayan Turseg Urabhaya Vatavea
Kelvar:
Amphibians Antelopes Aryx Asps Aynîc flea Bats Birds Blood Wolves Caja Camels Cattle Celjust Gusters Cicati City-rats Cobras Crocodiles Desert orao Desert Puma Desert-rats Dogs Dun-coloured Rabbits Fell beasts Fell-turtles Fish Gnats Goats Hawks Hultif Hummingbirds Hyenas Igûri Insects Iu-Tori Izhta Jumping Mouse Jungle Cats Jungle Cavy Jungle Rodents Juthjuth Ki-Mitta Koza Kraken Latava Lions Lions of Shin-Ko Lisicavi Lizards Lyharg Majmun Marnetta Midges Monkeys Mumakil O-Taka Otrovativi Painted Lizards Painted Scorpion Papiga Parrots Petlavi Prairie Dogs Prairie Rats Prase Prelaz Bic Primates Rabbits Rats Reptiles Rodents Sashavac Sea-Turtles Sheep Shindabi Songbirds Stetanavi Tasidii Tree-frogs Trúsavi Umakavi Uncavi Vuk War-horses Wargs Water birds Weeping fever-Gnats Wild Dogs Wild Horses Wood-hawks Wuchyga Zamkavi Zimaj Zujati
Other creatures:
Baricha Cave worms Demons Ghost Ghoul Lesinavi Lesser wights Pûshel-Nîn Sand Devils Sand Drakes Skeletons Spectre Tavari Trolls Wight Wraiths
Olvar:
Akbûtege Ankî Argsbargies Aykara Bâlak Bodezlist Caj Carcátu Carnegurth Carneyar Coraco Culan Cûrfaláka Degîk dragul Durad Etarka Fek Ferns Flowers Frûlowg Funghi gildar Grárig Greddon Graet Trees Hégheg Hopper Mushrooms Hopperfoot Hrast Hugar Hugburtûn Juha Kakdúram karfar Kilmakûr Kiseoboba Klandûn Klytun Kólandor Ky Lárusangwa Lisgereg margath Melem Loza Mosses Murnân Orn orn-hevik Pasámar Pawf Rúd-tekma Sauthoël niben Shardúvâk Sírimo Slird Swigmakrîl Swûth Tarfeg Tarnas Tharfern Thrang Tordi True Tarnas Valanár Vaxvárna Vulcûrax Vura Vurâna Wék-wék Welwál Witan Wîtav Yake Yanar Yanta Hlianteron Yavin girith Yuth
References:
MERP:Far Harad The Scorched Land
MERP:Forest of Tears
MERP:Greater Harad
MERP:Hazards of the Harad Wood
MERP:Middle-earth Adventure Guidebook II
MERP: Middle Earth Campaign Guide
MERP:Nazgul's Citadel
MERP:Warlords of the Desert
merp.com wiki
Other Hands:the Realm of Bellakar
Trending pages
All items (142)
A
B
C
D
E
F
G
H
I
J
K
L
M
N
O
P
R
S
T
U
V
W
Y
Î
Û
Community content is available under
CC-BY-SA
unless otherwise noted.