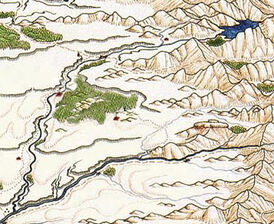 Caranduin (S."Red River"; Hi."Aub Derg") was a tributary of the Bruinen in eastern Rhudaur running down from the Misty Mountains and through the Eastwood and the Calavir marshes. The Town of Dispar was located alongside the Caranduin.
References
ICE MERP #8103: Trolls of the Misty Mountains
NOTE: misspelled Caraduin in the text.
Community content is available under
CC-BY-SA
unless otherwise noted.