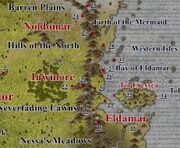 Calacirya (Q. "Cleft of Light") was the pass made in the mountains of the Pelori, in which was raised the green hill of Tuna with the city of Tirion.
Places of Note
Caves of the Forgotten Cottage of lost play Towers of the Calacirya Warcamp of the Valar
References
Read Sil 59,61-2, 72, 82,102,248.
Community content is available under
CC-BY-SA
unless otherwise noted.