Brytta Léofa

Home(s)

Language(s)

People

Time Period

T.A. 2752 - 2842

Gender

Male

Parents

Siblings

Spouse

Children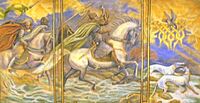 Known to his people as Leofa (R. "Beloved"), Brytta was a gentle, open-minded Rohirric Lord.He was born in T.A. 2752 and was the eldest son of Fréaláf. The eleventh King of Rohan (T.A. 2798-2852), his people loved him for his liberal policies and generous manner. Unfortunately, while his reign initially fostered growth and prosperity in the Riddermark, his kingdom was assailed by Orcs driven out of the Misty Mountains following their war with the Dwarves.
References
J.R.R. Tolkien, The Lord of the Rings, Appendix A, "The House of Eorl", "The Kings of the Mark"
Community content is available under
CC-BY-SA
unless otherwise noted.