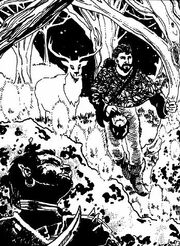 Blodrin Ban the Easterling's son was a half-elf, part Bórian, part elf of the Mole-kin or Eöl's folk.He had been taken and tormented by Morgoth because he was one of the faithful that withstood Uldor the Accursed.Blodrin eventually entered the service of Morgoth, was released, and sent in search of Túrin Turambar.He entered the hidden company in Dimbar, and served Túrin manfully for two years.He was one of the few friends of Mîm the petty Dwarf and was present when Mim was captured by Morgoth's Orcs.
Notes
In the original drafts of the story Blodrin was Blodren, an easterling who betrayed Túrin Turambar's company to Morgoth.Later the Character of Blodren was revised as Blodrin, a Gnome and later eventually abandoned.
Community content is available under
CC-BY-SA
unless otherwise noted.