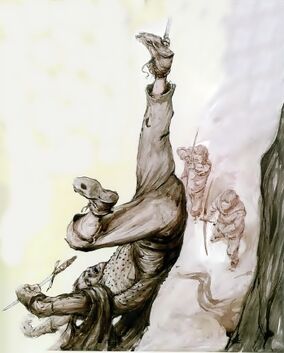 The Blackwolds, also called Skunkwood's Lackeys, was a group of outlaws in Bree-land, being secretly allied with the False King Mordirith.
A union of renegade Bree-men, Southerners, and Angmarrim, the Blackwolds organized themselves under the leadership of William Skunkwood, who arranged for a pact with Angmar. Supplied with food, drink, and weaponry, they rose as the dominant ruffian party in Bree-land, spreading from Archet to the fields and forests of Chetwood, Combe, and Staddle. Establishing encampments amidst ruins of old to conduct their activities, they turned the woods into dangerous places for travellers.
However, the defeats suffered by the Blackwolds and the significant loss of leadership had severely weakened the group, enough so for them to doubt the power of their northern comrades. To prevent rebellion, Angmar answered by sending Skorgrim Dourhand to hunt down undisciplined brigands. Unknown to them, however, the ranks had been infiltrated by Sharkey's Company and some of the rogues had accepted an offer for greater profit by doing the bidding of Isengard.
By the time the War of the Ring ended, the Blackwolds had been dealt with, thanks to a few brave local officials and adventurers. The remnants of the gang joined with Sharkey's Company to keep what little fortune they had left.
Suspected Members
Aldis Oatbearer Sergeant Applewood Big Tom Bill Ferny Blake Brunmor Calder Cob Captain Dogwood Cole Culvert Cole Sickleleaf Dirk Hawthorn Edric Eilert Crampbark Twisted Garrett Gib Hawthorn Gil Goatleaf Harry Goatleaf Hogaward Holt Adderson Jagger Jack Wolf-pelt Jake Jasper Mudbottom Johnny Goblin-fingers Morley the Fierce Ned Ashleaf Old Orc-eyes Otis Woodman Otto the Brigand Patric Bilberry Rayf Brogan Reginald Cutweed Roth the Ragged Susie the Spider Ted Bloom Todd the Troll Tom Greythistle Uchdrud Vance Waithman William Skunkwood Willie Hawthorn
Community content is available under
CC-BY-SA
unless otherwise noted.