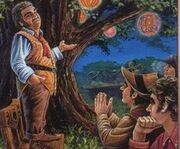 Bingo Baggins (TA 2864–2960) was a Hobbit of the Shire and the husband of Chica Chubb.
Their son Falco was the first Chubb-Baggins.
Boromir: "Is it not a strange fate that we should suffer so much fear and doubt for so small a thing? So small a thing!"
- J. R. R. Tolkien, The Fellowship of the Ring II:10
---
Notes
In The New Shadow Bingo Baggins originally was the name for Bilbo's supposed son or cousin, the character that would later evolve into Frodo Baggins.
References
Foster, Robert. The Complete Guide to Middle-earth.
MERP:Lords of Middle-earth Vol III: Hobbits, Dwarves, Ents, Orcs & Trolls
Community content is available under
CC-BY-SA
unless otherwise noted.